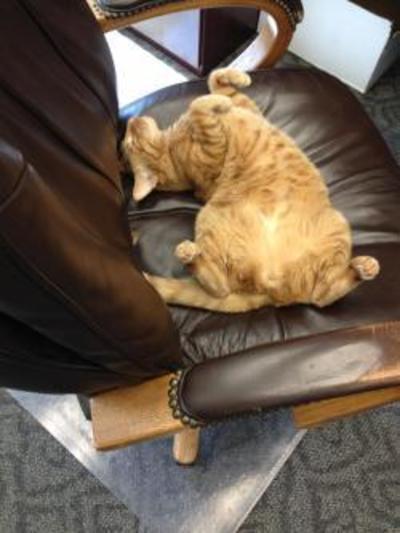 Hello humans (and other nosy cats reading over their shoulders)!
Just wanted to take a moment to acknowledge the similarities of these Panthers, that keep getting all this attention, and myself. Here are some things that we have in common:
1. Big cats do bunny paws. Not familiar with bunny paws? They look like this, put'em up, put'em up...
2. We all headbutt. We all do this out of affection. Consider it a compliment. Unless you're a Seahawk.
3. We smell with our mouths. Those mouth pieces must get in their way?
4. We wiggle when we are about to pounce. Those Seahawks should be wary of this pre-bounce behavior.
5. We like snacks, particularly birds. Seahawks don't really stand a chance.
6. We all like to play with boxes. Not sure why the ball they use is oval shaped.
7. We like to bop each other. Sometimes I see the Panthers doing this after a big play.
8. We can be a smidge testy and unpredictable.
9. We close our eyes when lapping up water. Watch the sidelines for similar behavior on Sunday.
10. We mark our territory. Not sure why those Seahawks are even bothering coming here.
All in all I think what we have learned today is that a.) I am a domestic cat and b.) domestic cats are very similar to big, wild cats c.) Panthers are big cats. Therefore, I am a PANTHER... at least in spirit!
and most importantly:
PANTHERS > seahawks
GO PANTHERS!!
XO,
Yellow Cat